When a box becomes a billboard: Amazon's on-box advertising
June 24, 2021 | By: Heather Eng, Sr. Editorial Lead
Some Amazon customers in Australia—and their feline friends—received an extra surprise when their packages arrived last month.

To promote their cat food products available on Amazon.com.au, Whiskas and their agency, MediaCom, worked with Amazon Ads to bring the first on-box advertising campaign to Australia.
Whiskas and their agency, MediaCom, worked with Amazon Ads to launch the first on-box advertising campaign in Australia.
Whiskas and Amazon Ads designed three boxes that customers can transform into a roller coaster, a castle, or an office—all for their cats' enjoyment. The marketing experience continued online with a custom landing page welcoming customers and their cats to the fictional campus of Whiskas' Kat Institute of Technology (K.I.T). Customers could watch short, entertaining videos, browse shoppable products, and see additional instructions on creating their special box and enter a social media competition.
Whiskas' custom landing page on Amazon.com.au.
"We're excited to collaborate with Whiskas on this first on-box advertising campaign in Australia," says Kelly Wearmouth, General Manager, Amazon Ads Australia. "Our custom ad opportunities really provide brands and advertisers with a bespoke way to help drive brand awareness and consideration and engage with customers in a memorable way. I can't wait to bring more of these one-of-a-kind experiences to our Amazon customers."

Launching on-box advertising in Australia is an exciting next step for the program that is also available in the US, Canada, the UK, France, Germany, Spain, Italy, and Japan. Amazon Ads on-box advertising began in 2015. To promote the release of "Minions," Universal Pictures and Illumination Entertainment teamed up with Amazon Ads to create bright yellow boxes featuring the cartoon Minions, themselves. Customers who received the boxes were delighted. Some shared photos of the boxes on social media.

Since then, companies across industries have teamed up with Amazon Ads to surprise customers with on-box activations. Chevy's 2019 campaign for the redesigned Silverado featured the truck bursting through the side of Amazon boxes.

To celebrate Super Mario's 35th anniversary, Nintendo worked with Amazon Ads to create custom Amazon boxes with a buoyant Mario and Luigi. Fans could visit Nintendo's Amazon landing page to see a timeline—in the shape of a Super Mario beanstalk—with key moments in the franchise's 35-year history. (Did you remember that Super Mario World introduced us to Yoshi back in 1991?) The boxes became coveted collectors' items among Nintendo fans. Some were even up for sale on eBay!
Nintendo worked with Amazon Ads to create custom Amazon boxes to celebrate Super Mario's 35th anniversary.
Though not out-of-home advertising in the typical sense, the boxes serve as mini billboards.

"On-box ads get noticed," says Brendan Rodgers, Sr. OOH Partnership Manager, Amazon Ads. "They're waiting on your porch or patio, and people will often spot the boxes when they're out for delivery."

Yet, the on-box placements can connect with customers in a closer way than most traditional billboards.

"We're adding a bit of delight to the moments that customers are anticipating: when they receive their package in the mail," says Rodgers.

Amazon Ads is continuing to evolve the on-box experience to make it even more engaging. In October 2020, Amazon launched a new augmented reality (AR) experience for Halloween. Some customers received Amazon boxes with a blank pumpkin silhouette. They could draw a pumpkin face within it, then use the Amazon AR Player app to watch it come to life.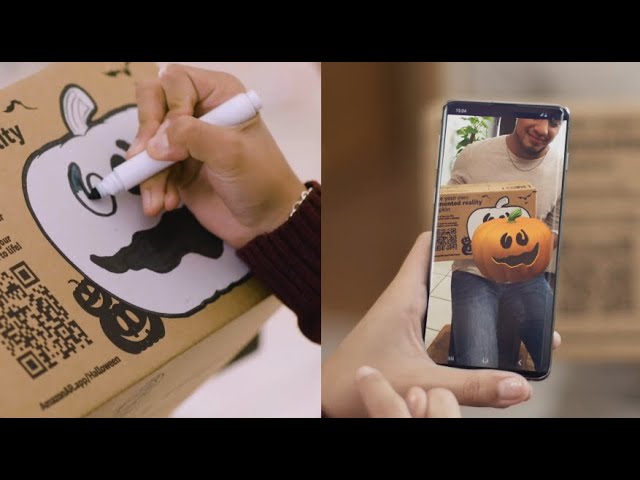 "AR technology allows us to join the physical and digital," says Vas Obeyesekere, Senior Industrial Designer, Augmented Reality, Amazon. "Amazon had this opportunity to use boxes as a billboards, and we can use that billboard to help customers discover a whole new way to interact with content."

For advertisers, AR means that experiences are no longer bound to a specific surface area. This can unlock a brand new suite of creative possibilities—taking customers to far-off destinations or having brand spokespeople, real or animated, appear in customers' living rooms.

"At Amazon, we're always seeking to delight our customers," says Obeyesekere.