What is experiential marketing?
Experiential marketing is an effective way for brands to create unique and memorable connections with customers. Here we offer an overview, elements of the best experiential marketing campaigns with examples, and details about several Amazon Ads solutions that can help brands to maximize effectiveness of these campaigns.
What is experiential marketing?
Experiential marketing, also called experiential brand marketing, grassroots marketing, engagement marketing, or live marketing, is a way for brands to connect with consumers through experiences. Though these experiences are typically in person, they often have digital components, with the whole package designed to bring a brand to life in a big, meaningful way.

Marketing experiences can range from pop-up stores to mobile events to splashy parties to interactive installations. They range in scope from intimate events to celebrity or influencer partnerships. There is no limit—as long as the experience makes sense for the brand, supports its marketing goals, and delivers surprise and delight for customers.
Elements of the best experiential marketing campaigns
The best experiential marketing campaigns accomplish the following:
The brand is well represented. It's clear who's hosting the experience, and the campaign is relevant and on-brand.
The experience is memorable and engages customers in unexpected ways beyond standard advertisements.
The experience is measurable. Particularly when it's in person, experiential marketing campaigns can be tough to measure. Some ways you can do this are through head count, post-event surveys, and use of experience-specific social media hashtags and landing pages. Online experiences are easier to track with click-through rates (CTRs), views, and more.
Experiential marketing examples
Here are four examples of successful experiential marketing campaigns created in collaboration with Amazon Ads.
Bacardi hosted a live whiskey tasting experience on Amazon
Bacardi teamed up with Amazon Ads to enable Amazon customers to enjoy a whiskey tasting experience in the comfort of their homes, to help them navigate this complex category. Customers could take part in the tasting and ask live questions to the hosts, via a custom landing page on Amazon. Bacardi drove awareness of the tasting pack and livestream event through high-impact video ads on Fire TV, Amazon.co.uk, and Amazon.de. The spirits company leveraged Amazon DSP to help drive consideration and purchase.
The Bohemian Rhapsody tour experience from 20th Century Fox
For the UK release of the film Bohemian Rhapsody, 20th Century Fox sought to drive awareness and engagement with Queen fans and drive sales of the movie on DVD and other formats. The company worked with Amazon Ads on an experiential campaign that brought the movie to life featuring a Treasure Truck rock 'n' roll tour that made stops in London, Birmingham, and Manchester in March 2019. This was supported by extensive digital advertising on Amazon.co.uk and on Amazon Prime UK.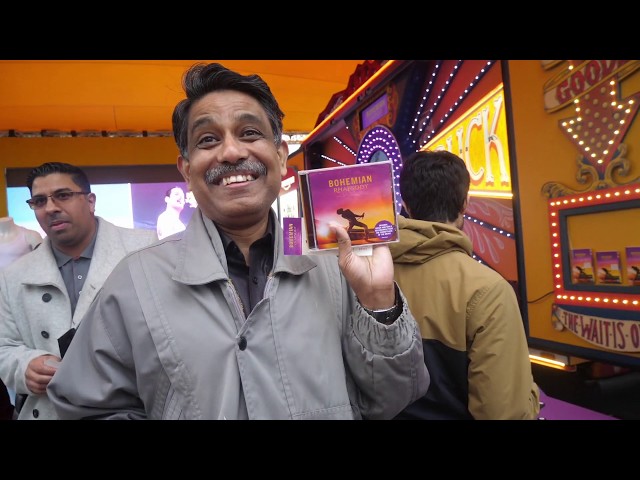 Britvic draws in Londoners with shopping bag experience
The soft drink company Britvic wanted to drive awareness of its London Essence Co. range of mixers (tonics, gingers, and sodas) with key audiences in London. Amazon Ads and Britvic created a custom campaign where Amazon delivered branded London Essence Co. Prime Now bags to customers in a select number of London areas. The campaign occurred over a six-week period in July and August 2019. To help gauge success, the team compared sales uplift in areas that received the branded bag vs. those that did not.
INFINITI lets customers experience luxury on and offline
INFINITI, the luxury car company, wanted to build brand awareness and consideration in its crowded category, putting their cars in front of prospective customers to allow them to experience INFINITI luxury firsthand. The seamless multichannel experiential marketing campaign involved test drive pop-ups at Yorkdale Mall, Canada's largest luxury shopping center, as well as a strategic digital marketing campaign. The pop-up events juxtaposed "everyday life" by featuring a home façade containing on-brand, curated prestige items available for purchase through Amazon SmileCodes. Customers could conveniently experience the INFINITI QX50 and were encouraged to visit local dealers. The physical campaign was then amplified with influencer marketing, high-impact placements on Amazon.ca, and a tailored landing page.
Building experiential marketing campaigns with Amazon Ads
Amazon Ads offers several solutions that help brands execute successful experiential marketing campaigns. Here are just a few:
A brand's experiential marketing campaign should be unique. The Amazon Ads custom team works closely with brands to create memorable experiences, no matter where potential customers are in the marketing funnel. These innovative, end-to-end campaigns use Amazon's first-party insights to help brands reach audiences locally, nationally, or globally. Get in touch with our sales team to learn more.