How INFINITI delivered a frictionless online-to-off-line experience
The company
INFINITI is an automotive company built on luxury and innovation. From their own words:

We believe luxury should be lived in. For some, luxury is a status symbol. It's something you keep pristine, untouched, separate from real life. For us, luxury means so much more. It inspires us to embrace who we are, to appreciate the little things, to pursue our wildest dreams. From the vehicles we design, to the roads we travel down, it's at the heart of what we do.
The challenge
INFINITI's 2019 challenge was to build brand awareness and consideration. INFINITI produces exceptional luxury vehicles, but in a crowded market, it can be difficult to get consumers to experience that luxury proactively. Their goal was to put their cars in front of prospective customers to make them aware of their brand and to experience INFINITI luxury firsthand, which is difficult to do with traditional media.
The insight
Customers are pleasantly surprised when they have the opportunity to experience INFINITI's luxury, design, and technology firsthand.

"We know that when people get into our vehicles AND get the chance to drive them, we see a spike in consideration," says Jennifer Dobbs, INFINITI Marketing Manager.
The solution
A new experience that allowed INFINITI to leverage its history and legacy in innovation to drive a great experience in Canada.

– Subtej Nijjar, Partner at UNION
The campaign comprised a seamless online-to-off-line experience for customers.
Digital campaign. The online campaign consisted of using the Amazon home page with high-impact placements and custom brand pages to help drive awareness and help customers experience the brand. The Amazon DSP was used to deliver brand messages across exclusive Amazon audiences, drive reach across devices and formats, and get insights and performance reporting.
Experiential activation. The online campaign was brought to life with a test-drive pop-up experience inside of Yorkdale mall—Canada's largest luxury mall—juxtaposing "everyday life" by building a home façade, complete with curated prestige everyday items available for purchase through Amazon SmileCodes. Customers could conveniently see and experience the INFINITI QX50 and were encouraged to visit local dealers. The physical campaign was then amplified with influencer marketing and high-impact placements on Amazon.ca, as well as a tailored landing page.
The results
Ultimately, the program delivered in solving our brand challenge. We successfully delivered strong lift in brand favourability and consideration intent. We increased brand favourability by +5% and increased consideration by +3%, significantly outpacing industry benchmarks. We also received substantial media coverage on our activation.[1]

– Jennifer Dobbs, INFINITI Marketing Manager
The campaign successfully drove brand lift and consideration among relevant audiences. "I am looking for a new car right now. INFINITI was not even on my radar but I'll definitely consider the QX50," one Yorkdale mall customer said.

The experiential activation engaged mall shoppers with one-on-one brand interactions and delivered on test drive KPIs. The campaign also successfully drove traffic into dealerships. The 10-day event generated 2000+ customer interactions with product specialists, resulting in 300+ event test-drives,2 and 600+ dealership test-drives.3
Working with Amazon Ads was an easy decision. The initiative married the digital experience with the physical, creating a 'shoppable' test-drive experience. This fresh approach allowed us to connect with prospective buyers in an innovative way.

– Christine Wilson, OMD Chief Talent and Enablement Officer
Watch the video below to hear more about INFINITI's story.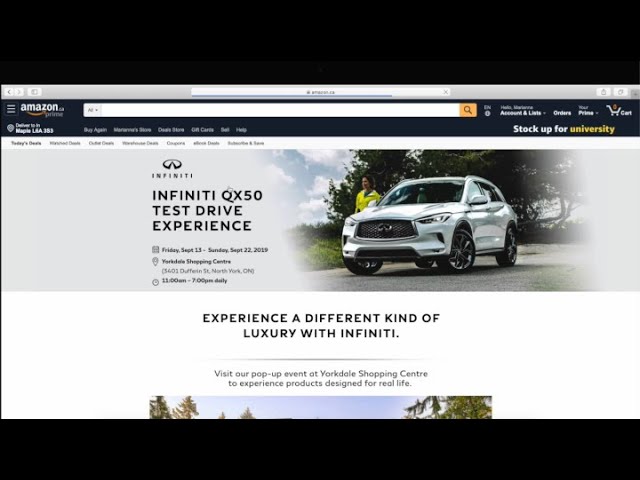 Sources:
1 Kantar Millward Brown. Kantar Brand Lift Insights Report, Jul to Oct 2019.
2 DriveShop. Internal Data, Sept 2019.
3 INFINITI Canada. Internal Data, Jul to Oct 2019.