Why sustainability is at the heart of J&J Consumer Health: "It's the right thing to do"
April 20, 2022 | By Matt Miller, Sr. Copywriter
Welcome to The Sprout, a series that explores the ways businesses are working toward a more-sustainable future.
Katie Decker, the Global Leader of Essential Health & Sustainability at Johnson & Johnson Consumer Health, knows that there is no shortage of challenges facing brands today who are working toward a cleaner future.

"It's a process and we still have lots to figure out, but every day we learn something new," Decker said. "The biggest challenge (and opportunity) I see is that sustainability isn't the work of just one team or one brand. It's a full end-to-end effort and the entire organization needs to pivot to make sure every decision is more-sustainable. It's not something on the side—it needs to be built in to how an organization thinks, the conversations it has, and the decisions it makes."

This is why—from its own Healthy Lives Mission, to partnerships with NGOs and industry peers, to research, to products and brand messaging—sustainability is an essential element of the Johnson & Johnson Consumer Health business.
A global urgency for more-sustainable brands
In April, the UN's Intergovernmental Panel on Climate Change released a new report outlined the daunting task facing nations to reduce global emissions enough to prevent the worst impacts of climate change. Given this urgency, consumers today are increasingly becoming more conscious about how their purchasing decisions impact the planet. Whether related to sourcing, supply chains, packaging, or recycling, today's shoppers are looking to support brands that are committed to reducing their environmental impacts.

According to a 2021 Amazon Ads and Environics Research study, 83% of US consumers, 88% of consumers in Europe, 88% of consumers in Canada, and 95% of consumers in Mexico think more brands should do their part in helping the world.1 In the US, 60% of consumers actively seek out brands that are more sustainable in their business practices; in Europe, 71% of consumers do so. In addition, 55% of US and 66% of EU consumers are willing to pay more for more-environmentally friendly products.2

"Consumers are looking for brands that align with their values, so for consumer health brands today, embracing sustainability is a must—it's what we call a 'modern mandatory' and essential to reflect our consumer values," Decker said. "Consumers, customers, suppliers—even policy makers and investors—expect sustainability to be a core component of our value proposition."

In 2020 Johnson & Johnson Consumer Health introduced their Healthy Lives Mission, which is an $800 million investment through 2030 to advance human health while protecting the environment.

Sustainability efforts are broken into three categories: 1) fighting preventable diseases, beginning with stop smoking programs and skin cancer prevention partnerships; 2) improving product transparency, so consumers can make more informed choices about personal health products; and 3) reducing their environmental impact by reducing their use of virgin plastic (or new plastic using natural gas or crude oil), using more recycled materials in their packaging, making sure their packaging is easy to recycle or reuse, and powering their operations with renewable electricity.

"Our purpose is to change the trajectory of health for humanity," Decker said. "If we start with our purpose as a company, and the understanding that we can't have healthy people without a healthy planet, the urgency for us becomes clear. Which is why sustainability is embedded in our business and brand strategies."

Meanwhile, knowing that it "will take all of us collectively to make our industry more sustainable," the company also works with industry peers, retail customers, NGOs, and other key stakeholders to exchange knowledge, share expertise, and innovate. They are a member of the Environmental Beauty Score (EBS) Consortium, a signatory of the New Plastics Economy Global Commitment with the Ellen MacArthur Foundation, and have joined the Consumer Goods Forum (CGF) Plastics Waste Coalition of Action (PWCoA).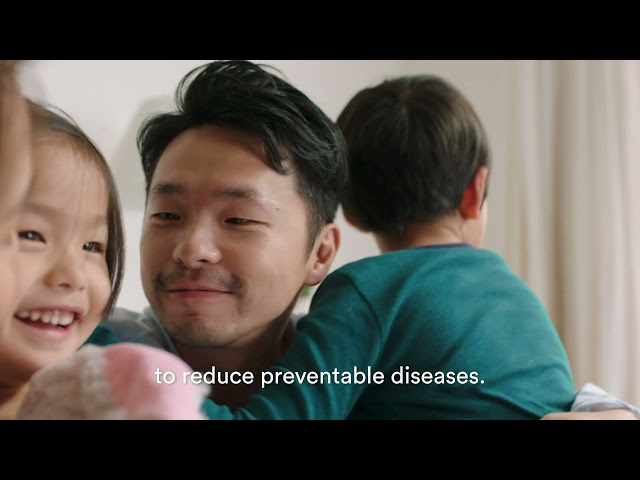 Johnson & Johnson Consumer Health's Healthy Lives Mission is an $800 million investment through 2030 to advance human health while protecting the environment.
Informing customers about more-sustainable products
With the growing interest in more-sustainable products, many brands are working to inform their customers about their efforts to help reduce their impact on the environment. At Johnson & Johnson Consumer Health, brands like Listerine, Neutrogena, Johnson's, Le Petit Marseillais, OGX, and Nicorette all have more-sustainable products and programs that they inform customers about through digital channels and retailers who have a like-minded view on sustainability.

"Our brands are leaning into our Healthy Lives Mission because it's the right thing to do and it matters to our consumers," Decker said. "We have been working hard to make our packaging easier to recycle and reuse, increase the use of recycled plastic, and where possible, introduce refill and reuse models to reduce our overall packaging footprint. Each brand is approaching sustainability, product transparency, and social impact in ways that make the most sense for that brand, rooted in a strong understanding of the unique expectations of its consumers."

This Earth Day, Johnson & Johnson Consumer Health will leverage the Climate Pledge Friendly label on Amazon Ads for several brands, including Neutrogena, to help highlight their more-sustainable products to consumers. Products with the Climate Pledge Friendly label have met one or more sustainability-related certifications that help preserve the natural world. To help increase discoverability of these products, Amazon Ads provides the option for brands to create a separate page in their brand's Store on Amazon that showcases their Climate Pledge Friendly offerings in their own "aisle." This can help customers discover products that align with more-sustainable product shopping preferences.

As Decker explained, even small more-sustainable shopping choices can be steps toward a healthier future.

"As an individual consumer, it seems like making one more-sustainable choice doesn't make an impact. However, when everyone makes a small change, it matters," Decker said. "People can reevaluate their options and choose products that are more sustainable."
1 Environics Research, Social Values Global Consumer Themes, USA/Europe/Mexico, 2021
2 Environics Research, Social Values Global Consumer Themes, USA/Europe, 2021