Innovating with advertising to help fight hunger
June 14, 2021 | By: Brendan Flaherty, copywriter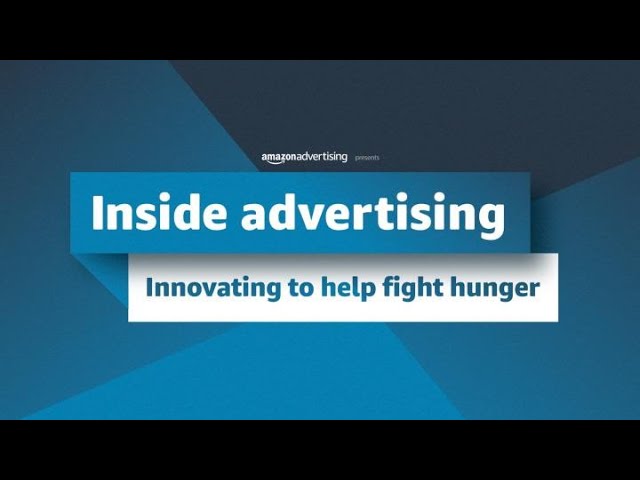 Benjamin Schorr volunteers at his local food bank in Queens, New York. Often, he's seen long lines of people waiting, and his experience there has reinforced the importance of his work at the Kellogg Company, where he's the Senior Manager of Philanthropy and Social Impact.
"As a food company, Kellogg has long been driven to help ensure everyone has access to food today, and in the future," Ben said in an interview. "Since 2015, we've donated 2.4 billion servings of food worldwide through our Better Days platform, and we've committed to help end hunger and create Better Days for 3 billion people by the end of 2030."

Amazon is also committed to fighting hunger, and has taken action through hunger relief initiatives. Both companies recognize the need, especially given that, in 2019, more than 35 million people faced hunger in the US, including more than 10 million children. That's one in nine individuals, and one in seven children.1

Now, due to the ongoing pandemic, Feeding America—the largest domestic hunger-relief organization in the United States—projects that more than 42 million people in the U.S. may experience food insecurity in 2021.2

To help address this immense issue, Kellogg has teamed up with Amazon Ads to make a positive impact.
Working together to make a positive impact
Since 2018, Kellogg has worked with Amazon Ads to help raise awareness for this cause through initiatives around World Food Day. The day is celebrated globally each year on October 16 to commemorate the founding of the United Nation's Food and Agricultural Organization.

"At Kellogg," Ben said, "it's a day we use to rally our employees and the world at large around this important issue."

Brett Kreisman, a Senior Business Lead at Amazon Ads, has been key to these collaborations. "Based on the success of our first World Food Day campaign," he said, "we went bigger on a campaign together in 2019, putting more of our ad solutions to good use."

Expanding the program improved the results, and the teams wanted to continue to grow it in 2020, and innovate based on their shared learnings.

"We understood, through past initiatives, that the easier we made it for people to take action and donate, the more likely they are to do it," said Jenna Urbanski, Senior Manager of eCommerce at the Kellogg Company.

But then, 2020 delivered a major challenge.
Collaborating to deliver new solutions
The pandemic shifted everything quickly and drastically, including how brands reach, engage, and understand customers. People were spending a lot more time at home. For many, that meant streaming more. More than 90% of Amazon's Streaming TV ad audience, for example, streams almost two hours of content every day.3 That created an opportunity to meet customers where they are, while they're engaged with their favorite content.

But the question remained of how. To work, the campaign needed innovation. Enter Amazon Fire TV, where a team was working on an initiative called "Stream it Forward."

"The idea for 'Stream it Forward' was to make it simpler and more convenient for customers to donate to food banks while they're doing what they're already doing, like streaming content on Fire TV," said Adam Key, Senior Marketing Manager at Fire TV.

Recognizing that the initiative could work in concert with the Kellogg's World Food Day campaign, Brett took it to Kellogg, and the teams began iterating and ideating. In collaboration, they developed a new approach, which gained momentum, aided by Food Network Kitchen joining in.

"Food Network Kitchen was a perfect thematic fit for the campaign," Adam said. "Viewers could help raise money for food banks by watching their favorite cooking shows and classes." From there, the Kellogg's World Food Day 2020 campaign took off.
Innovating to deliver results
Together, the teams worked to drive donations to Feeding America member food banks. For every participating Kellogg's item purchased on Amazon.com/fightinghunger, between October 16 and November 1, 2020, Kellogg helped to provide 10 meals. In addition, the campaign worked across Fire TV, Fire tablet, and Echo Show. Amazon donated one dollar for every hour of cooking content streamed in the Food Network Kitchen app on Amazon devices, up to 50K hours. A complimentary one-year subscription to Food Network Kitchen on Amazon devices made it easier for customers to participate.

"Amazon Ads helped us increase awareness for this initiative," said Jenna. "By leveraging the Fire TV home screen in-line banner, alongside the Amazon DSP consideration package, we exceeded grocery benchmarks across the board, including +94% on the grocery return on ad spend (ROAS) benchmark, and 36% of purchases were from new-to-brand customers. The campaign also helped us to improve loyalty, by increasing our Subscribe & Save subscriptions. But most importantly, it helped customers make a positive impact safely from their homes."

"By making it easy for customers to donate and meeting them where they were, we were able to have a much bigger impact with this campaign," Ben said. "At a high level, our goal was to ensure that as many people as possible were engaged in fighting hunger, and we were all thrilled with the level to which we were able to do that."

Thanks to the collaborative effort, the campaign helped to provide one million meals* for Feeding America member food banks.

Interested in teaming up with Amazon Ads? Reach out to your account executive or get started here today.
1 United States Department of Agriculture. 2019. Household Food Security in the United States in 2019. Accessed March 15, 2021.
2 Feeding America. 2020. "Hunger in America." Accessed March 15, 2021.
3 Amazon internal, 2020
*$1 helps provide at least 10 meals secured by Feeding America on behalf of member food banks. For every receipt uploaded between October 16 and October 31, 2020, Kellogg's donated $1 to Feeding America. Guaranteed maximum donation of $50,000. For every hour of cooking content enjoyed in the Food Network Kitchen app on Amazon Fire TV, Fire Tablet, and Echo Show from October 16 to November 1, 2020, Amazon donated $1 to Feeding America, up to $50,000.