Bohemian Rhapsody rocks audiences
October 31, 2019 | By: By Fiona Green, Sr. Marketing Manager

20th Century Fox "rocked" audiences with the 2018 theatrical release of Bohemian Rhapsody, an award-winning film about Freddie Mercury, the lead singer of the British rock band Queen.

Leading into the film's home entertainment release, 20th Century Fox wanted to build awareness and engage fans of not only the band, but of musical movies in general.

"The statistic is like one in three people in the nation is a Queen fan," said Rosalee Todd, Publicity & Partnerships Manager, 20th Century Fox Home Entertainment.

The company also sought to reach new customers and drive DVD, Blu-ray, and digital sales and rentals.

To match the film's excitement and theatrics, 20th Century Fox strove to develop a marketing campaign to further bring the story to life for customers.
We wanted to deliver something where we could get fans to come and participate in the film—that's what the fans love to do.

– Mark Horton, Marketing Director, 20th Century Fox
Creating an immersive customer experience
"When Bohemian Rhapsody came along, it gave us a real chance to do something innovative," said Jonathan Silk, Senior Customer Marketing Manager, 20th Century Fox Home Entertainment.

The 20th Century Fox team worked with Amazon.co.uk, Prime Video, and Treasure Truck to bring UK audiences a "rock 'n' roll tour" to coincide with the film's DVD, Blu-ray, and digital release.

"One of the big ideas was how we could bring a celebration to the country," said Todd.

Treasure Truck delights Amazon customers in select cities worldwide with an unexpected way to shop with Amazon by featuring one hand-picked, must-have item at a time, and sharing it with customers via text. Customers can buy the item in the Amazon app, and pick it up from the truck that same day at the location that works best for them.
Working with Amazon, we were able to engage customers and drive awareness in a unique way for the release of Bohemian Rhapsody with our 360 campaign, which combined the rock 'n' roll tour with the Treasure Truck, social media, and digital engagement on Amazon.co.uk.

– Rosalee Todd, Publicity & Partnerships Manager, 20th Century Fox
The Treasure Truck campaign for Bohemian Rhapsody included a custom events page and homepage placements on Amazon.co.uk (on desktop, mobile, and app); a social media campaign across Instagram, Twitter, and Facebook from both the Treasure Truck and Amazon.co.uk accounts; and an SMS campaign reaching Treasure Truck subscribers.

In March 2019, the three-day rock 'n' roll Treasure Truck tour made stops in London, Birmingham, and Manchester. At the truck, fans were greeted with a replica concert ticket, which they could exchange for themed prizes, ranging from branded T-shirts and tote bags to a full-size digital piano. They were also shown previously unreleased film footage from Queen's 1985 Live Aid performance.
Taking a two-pronged campaign approach
To drive consideration and sales, the campaign consisted of two phases. The first phase was a digital-only campaign timed with the film's release on Amazon Prime Video UK, consisting of display and sponsored ads on Amazon.co.uk and a Fire TV inline banner. The second phase incorporated both digital and physical components, including sponsored and display ads on Amazon.co.uk and the Fire tablet, and the Treasure Truck activation in three UK cities.
Achieving results
Bohemian Rhapsody exceeded all home entertainment release forecasts and became the fastest-selling digital download movie in the UK in its first 8 days.1 The video was also number one across DVD, Blu-Ray, and digital downloads in the UK's Top 20 chart from January 1 to June 30, 2019.2

The Treasure Truck campaign exceeded 20th Century Fox's customer event participation target by 38%, and the Treasure Truck Delight Squad distributed over 9,000 branded event tickets and 5,000 waffles from Kaspa's across the three cities.

The campaign received 56 million digital impressions, exceeding the brand's campaign benchmarks for impressions by 70%. The Treasure Truck experience was further amplified on social media through various accounts, including Treasure Truck, Amazon.co.uk, and Queen. 20th Century Fox's overall return on ad spend was 7.28.

"The campaign drove over twice the digital impressions against our goal, and we've had phenomenal sales results across both physical and digital," said Silk. "We're delighted in how it's performed and how Amazon helped us deliver that."

To learn more about 20th Century Fox's story, watch our short video.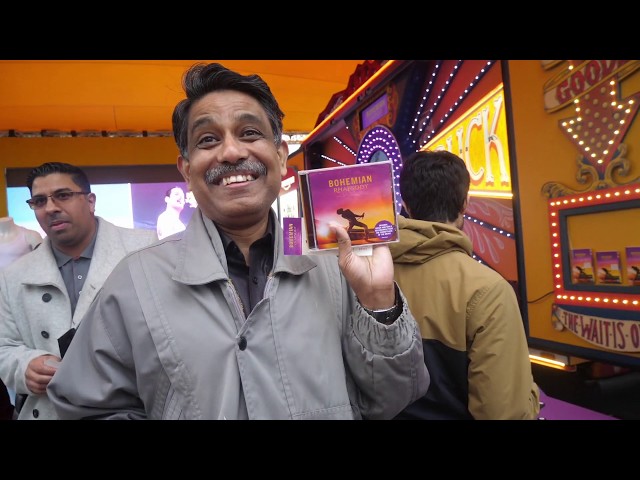 1 The Official UK Charts Company, 27 February 2019.
2 Entertainment Retailers Association, UK market statistics, half-year review, H1 2019.